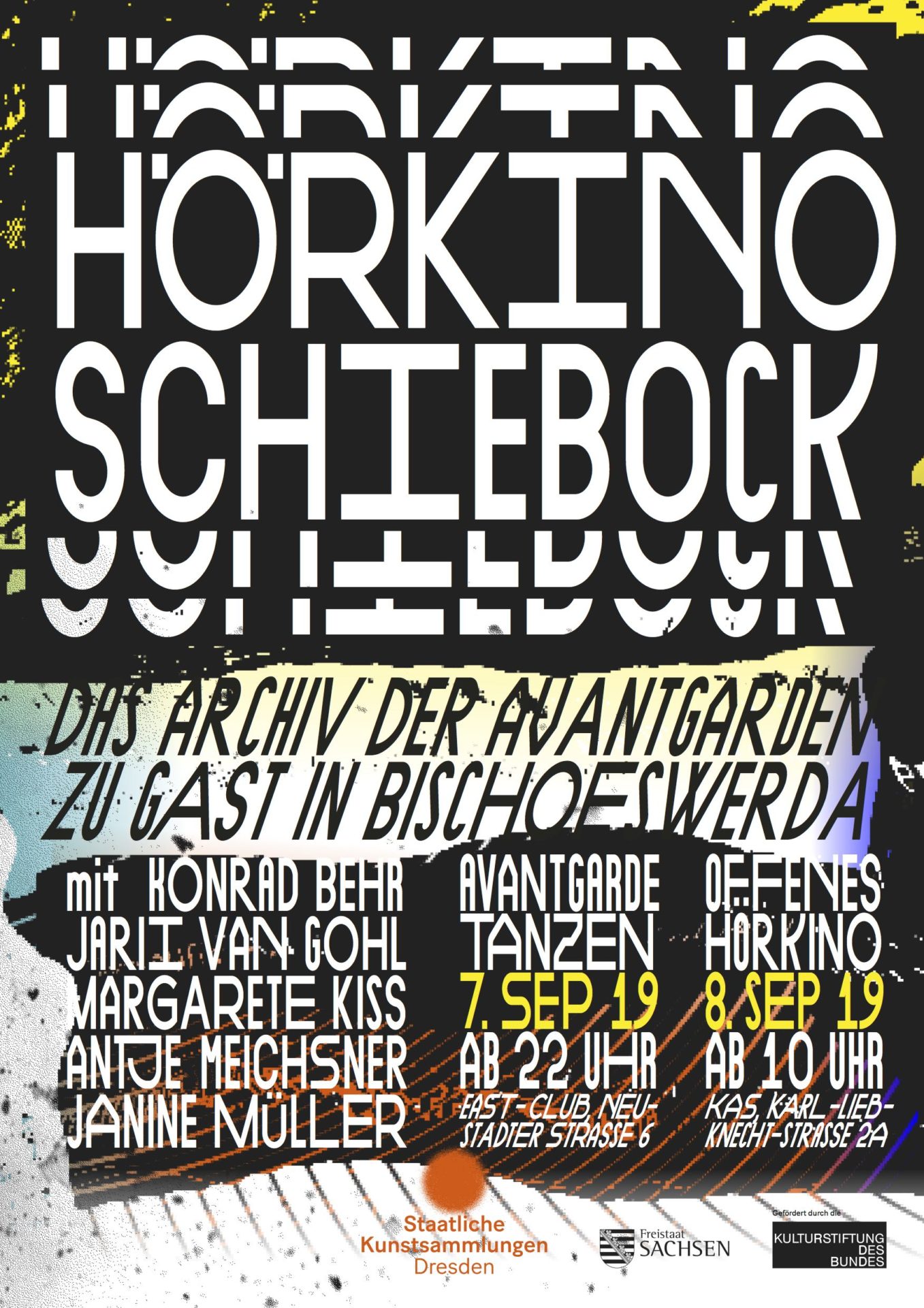 2- 8. September 2019
Hörkino Schiebock
Konzept und Organisation: Bettina Lehmann, Bettina Kletzsch

The Archiv der Avantgarden (AdA) guests in Bischofswerda: On 8 September from 10 a.m. the former cinema in the König-Albert-Saal in Bischofswerda will become a place of listening. In workshops Schiebocker of different age groups together with sound and radio artists will create a walk-in sound art work. It makes the city and its people heard and builds a bridge over a century of audio and radio art to thinkers and artists like Walter Benjamin, John Cage or Daniel Weil.
On the evening before, on 7 September, DJs and DJ teams from Berlin, Dresden and Weimar will play avant garde dance music in the legendary East Club from 10 pm:
MAKIKOBE: Konrad Behr, Margarete Kiss. Visuals: Janine Müller
World&Bass | https://clongclongmoo.org/makikobe
Jarii van Gohl/ sound selector, live with Robert J. Mohonk (guitar) |
Set: Structures
Shannon Soundquist | ambient (live)/ acid tekno | https://soundcloud.com/shannon_soundquist
HÖRKINO SCHIEBOCK is an outreach project of the Archiv der Avantgarden – Staatliche Kunstsammlungen Dresden in cooperation with "180 Ideas for Saxony". In cooperation with Kulturort e.V., Mosaika e.V. and Chamäleon e.V., Bischofswerda. Supported by the Kulturstiftung des Bundes and the Free State of Saxony.